Have you ever been browsing through social platforms and  wondered where all those interesting posts and amazing images come from? You're in luck! We are going to take you behind the scenes of what The Social Buzz Lab does to create engaging content and why it is so important for a brand and content strategy.
The Social Buzz Lab works with many different kinds of companies. One niche area that is keeping us busy these days is the apparel industry. Some of our apparel companies include Soffe, Salt Life and Junk Food Clothing.  For those of you who are unfamiliar with these brands, Soffe is a wonderful bright performance line for any active lifestyle. They have a broad selection of athletic apparel. Widely known Salt Life is an amazing brand that represents those with a love of the beach lifestyle.  This brand offers accessories, clothing, hats and a full line of performing water gear.  Our newest apparel company is Junk Food Clothing, the original vintage t-shirt company, creating and forever changing the premium t-shirt market.  Known for its soft, comfy fabrics and witty art, Junk Food is a celebrity favorite carried in top stores throughout the world.
For the Social Buzz Lab, getting excited about these brands is easy and makes the job a lot more fun! Remember if you are passionate about what a brand has to offer and stands for, the more naturally you are able to create awesome content. Even though our passion comes easy, that doesn't mean there is not a lot of research and hard work to be done.  This is also where great content comes from.  Colorful images, informative posts, clever statistics, well written quotes, and interesting videos are just some of the ways to attract attention and increase engagement.  Keeping a steady balance of these types of posts will help establish your company tone and personality without being too invasive.
Create Content That Resonates With Your Followers
One of the most important steps  in a successful content strategy is having assets to work with.  Team member Caitlynn Nolen, our digital content curator, and master of Instagram attends client events and job sites to capture the best visual representation of that company.  She studies the brand and their followers extensively to know exactly what they want to see and what they engage with best.  This dedication and creativity is one of the key reasons our clients have those interesting visual images you see.
The Social Buzz Lab team executes intense research to create and find digital content to post to various social media sites such as Facebook, Pinterest, Instagram and Twitter. Our team takes the assets supplied by our clients and combines it with the creative expertise of  keywords and inspiring words to create  the best content for maximum engagement. We post as many as 12 posts daily on multiple platforms.  Similar content can be spread out on all social media sites, but skewed so the content is more specifically created for each individual brand and their fans.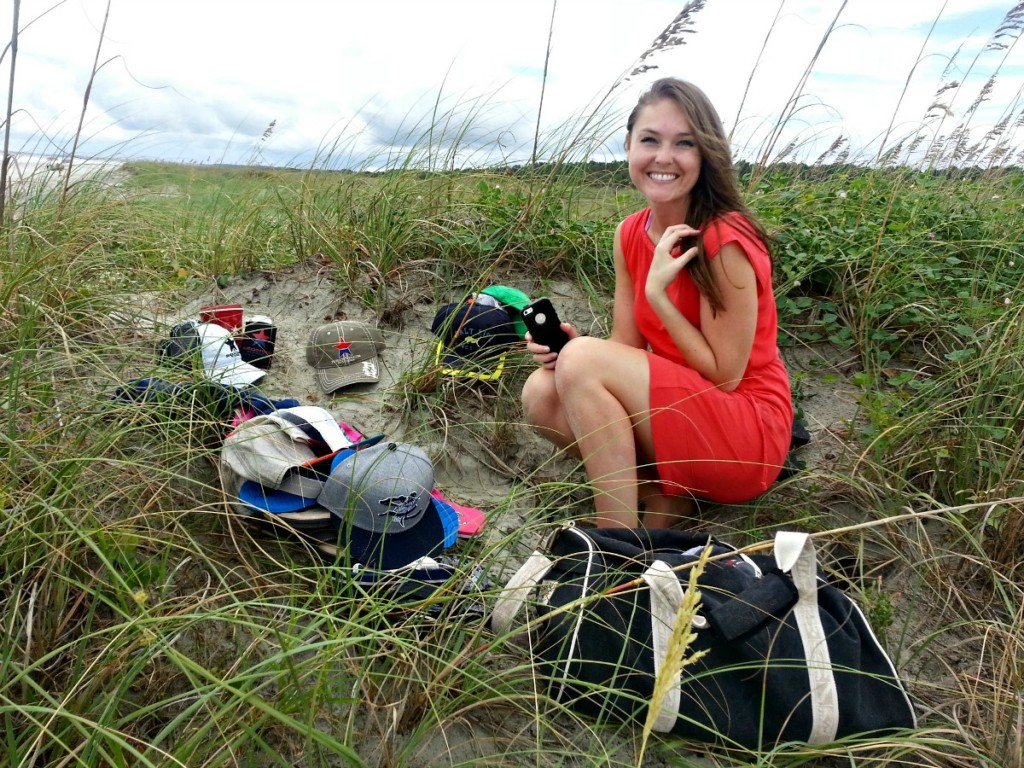 Since society is a visual one, it is quite important to have your products displayed in a way that is visually appealing.  This task is not as easy as it looks to get that flawless shot. Visual marketing specialist, Erika Bentley, for The Social Buzz Lab is more than dedicated to get the perfect shot of apparel merchandise.  The image above portrays her in the sand with fire ants crawling up her legs to get a great shot of apparel for Salt Life.
Erika explains,
"Social media marketers know that content is king, and the best content is visual. We are always working hard to create visual content that is compelling, but also "real" in the sense that it doesn't look like it was taken in a professional studio. These types of images get the best engagement and can be multi-purposed across most social platforms."
While posting and taking pictures is a great way to keep the fans conversant, we believe it is very important to not only inform but interact as well. Responding to individual images, liking posts and encouraging fans to post and submit photos is a way we can engage with fans and customers.  It is extremely important when a fan on Facebook, for example, posts a picture of themselves in the apparel then an administrator involved in their social media should make a comment.  This shows the fan the brand does care what they have to say and treats them more as a friend than just another customer.  The Social Buzz Lab consistently monitors our brands' social media sites and stays on top of engaging fans creating more of a conversation.
Please leave your thoughts and comments below. If you are an apparel company and would like to talk with us about your apparel social content strategy please contact us for a free consultation.