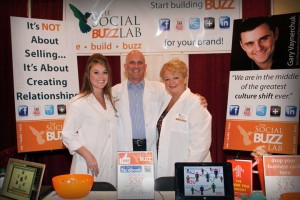 Several weeks ago our Team had the pleasure of participating in the Montgomery County Chamber of Commerce Business  Expo held at the beautiful Conference Center at The Inn of Virginia Tech.  This was one of the best events we have participated in and a special thanks goes to the Montgomery Chamber staff for a job well done!
There were several hundred business owners expected to tour the Expo, so since we are in the social media business, we decided to provide a handout that included a list of Things NOT TO DO on Social Media.  John Lusher, The Social Buzz Lab Social Media Scientist (better know as the "Mad Scientist") and owner of John Lusher Consulting, compiled an extensive list. John is currently working on creating an entertaining video that will address all of these points, but while we are waiting for the debut of this video I wanted to share 3 of the "DO NOT DO on Social Media" items from John's list.
DON'T DO IT on Social Media

Do Not ignore comments, responses or conversations by your followers.  The quickest way to lose followers or friends? By ignoring them!  It is rude and disrespectful.

Do Not set it and forget it.  Creating social platforms and not using them is worse than not doing it at all.  Social media requires daily attention either by you, an employee or a consultant that you have hired.

Do Not respond to comments or posts out of anger or resentment.  It only takes a moment to ruin your reputation online; so calm down and think clearly before you respond to criticism or something negative.
Stay tuned for the "Mad Scientist's" video featuring the entire list of DO Not Do's on Social Media!  Do you have a DON'T DO on Social Media etiquette you want John to include in the video?  Leave it in the comments below!!