Every morning I login to Facebook, not to see my profile but, to see how many comments my friend John Lusher has received on his morning status update.  John has a large network of friends, who like me, look forward to his engaging, positive and sometimes humorous morning post. It is my pleasure to have John Lusher of John Lusher Consulting, as a guest blogger. He shares how to build a strong alliance.
Build Your Alliance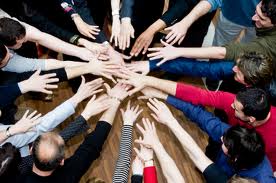 I believe most of us have confidence and faith in our own abilities.  We believe we can accomplish quite a bit on our own, and traditionally, we don't like to ask for help.  In life, as well as in the business world; we need to get past this outdated way of thinking and build an alliance. This alliance can and should consist of both online connections and offline, or real life connections.
More simply stated, we cannot do it alone.  It takes the help and support of others to reach our goals in business, in life, in everything we strive to accomplish.  I admit that I need help in certain areas and thankfully I am part of an incredible alliance that I have built over the years.
My network is strong and it is growing each day; but make no mistake, it takes time, energy and effort to build and maintain these alliances.  How do you build an alliance?  Here are some simple steps:
Online
Consistently Connect – the proliferation of social media profiles and platforms have made this easier than ever.  Whether your preference is Twitter, Facebook, LinkedIn or others, you must consistently connect and provide valuable content for your alliance members.
Promote Others – spend considerable time online promoting others in your alliance or network.  Open up your network to the people that you trust, respect and recommend.  We all have different alliances & networks and promoting others to your alliance is beneficial to all.
Respect Your Alliance –  if your alliance doesn't want to promote someone you believe in, respect their wishes.  If they do not want to take part in a project you are involved with, it's okay. It just may not be for them or their network; so respect your alliance and do not take advantage of them!
Offline
Meet Regularly –  this can be accomplished by meeting for coffee, lunch or a business meeting at their place of business.  This will enable you to see their environment and what is important to them. For valuable members of your alliance, scheduled regular meetings;  do not leave this to chance!
Make Connections – much like promoting others, you can work to make connections for your alliance members.  Who do they need to meet? What itch of theirs can you scratch by making introductions?
Never Assume – just as your time is valuable, so is the time for your alliance members.  Never assume that they have time to just chat by stopping by their office.  Respect their time and what they do and never assume!
Notice how the tips are similar for both online and offline?  That's because they apply to building any type of relationship, alliance or professional partnership.  In building an alliance of people that will help you, you must FIRST help them. If you approach building an alliance by seeing who you can help; you will have one of the strongest alliances possible.
Those are my thoughts; what say you?
John Lusher is a social media consultant, strategist and manager. In addition to social media duties, he handles marketing services for Consolidated Construction Services, an insurance restoration company. John speaks often to other restoration companies as well as insurance industry companies about social media and building their own community. An avid practitioner and believer of connecting with others, John works to build his own network for the benefit of others. When not working behind the screen, he can be found relaxing with a fine cigar or playing drums.

Connect with John:

john@johnlusher.com
http://JohnLusher.com
http://Facebook.com/JohnLusherConsulting
http://InsuranceRestorationVA.com