Social Media Marketing is all about information and connecting with others. Society loves to know what is going on in the world, so this makes it very important to provide current information so your fans know what's going on.  Aaron Lee stated:
"These days, social media waits for no one. If you're LATE for the party, you'll probably be covered by all the noise and you might not be able to get your voice across. It could only mean that if you want to be heard by the crowd, you have to be fast; and on social media, that means you have to be REALLY fast."
How right he is!  Social media doesn't wait for you and if you don't get the story out someone else will.  Be sure to check several media sites to keep up to date in what is going on with the newest technology, pop culture, social, social media stories, or even latest news.  Stay current and know what the social conversation is about.
Being a social media marketer creates some pressure in staying trendy with what is going on many platforms and applications. When you miss out on important things it can create bad consequences for your clients accounts and maybe even your own.  For example if your company has a client post a message stating they have an issue with the website or ordering your product; you should respond quickly with a solution. Posting these messages publicly will be displayed for others to see and resolve if they have had the same issues.  As a suggestion, keep any personal information to a private message instead of displaying that for all to see.  If you do not take care of these negative messages, they can pile up and look pretty bad that no one is taking care of their client's issues.  One may see this and think well if I have problems then they are not going to take care of me either.  Even if there is no issue with a clients comment, it is wise to respond back with appropriate useful information like in this example below.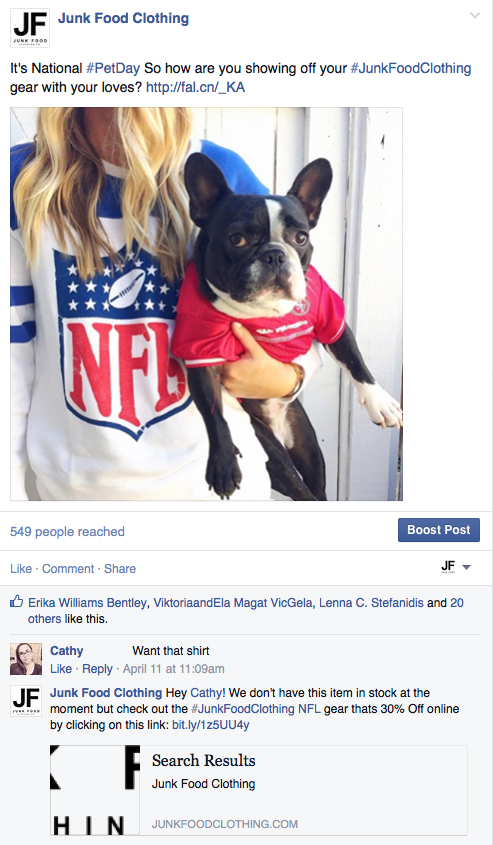 Companies need to realize that this is very important to maintain a good relationship and present a great appearance through out many platforms.  This is one of the many reasons that companies should have an individual to watch and monitor their social media accounts. This doesn't mean that you have to post the right content at the right time (even though it does help), but it helps you take care of the issues sooner than later.  Never ignore the issues, always address and direct your customers to the right solution. Staying ahead of the game will benefit you and your clients in the long run.