Everyone likes to take photos and share them with their friends.  Instagram is the newest place to post, share photos and capture a picture BUZZ!
Instagram is a free social photography application.  Its purpose is to take, crop and filter photos.  Devices compatible with Instagram are the iPhone, iPad, iPod Touch, and Android. This friendly photo application allows users to upload their photos to socially share in various applications such as: Facebook, Tumbler, Flickr, Twitter, and Foursquare.
We love taking photos and sharing the world through my eyes.  Check out our photos on Instagram and start following at @socialbuzzlab. There are some great inspirations here, you'll have to let us know what you think!
Below are a few infographics to display the tips and tricks of Instagram, a visual "How-To".  There are some wonderful examples of how Instagram operates, who the users are, and what kind of success your business can have from using Instagram.
1. Instagram
This infographic provided by Infographic Labs gives the insides and outs of Instagram. It is nice to learn some facts about the backstory of Instagram and instructions on how it works.  It was interesting to learn you can transform your statistics into your very own infographic by using Statigram.  How neat!!

2.  Instagram Cheat Sheet
With the rise of social media, Instagram, a free photo application, has completely taken off.  Fatmumslim created this infographic that gives some good tips on how everything works and what to do to get started.  I was very interested on how one can use several "filters" to enhance ones' images. With these step by step instructions I can't wait to start publishing some more photos.

3. Instagram's Facts
Tech Crunch has created a great display of the facts about Instagram.  This infographic shows how the application improves the experience of users to post photos fast and efficiently.  I love the examples of the top #tags and filters users have been using.  It makes me want to start sharing more photos about flowers and sunsets.

4. How to Spot an Instagram Junkie
It is used by many people all over the world who are active social-media users, 40 million users love Instagram!!  According to Flowtown it's a free, fun, and simple way to make and share gorgeous photos on your phone.  I think this infographic is very fun while giving readers an insight on Instagram. What a BUZZ!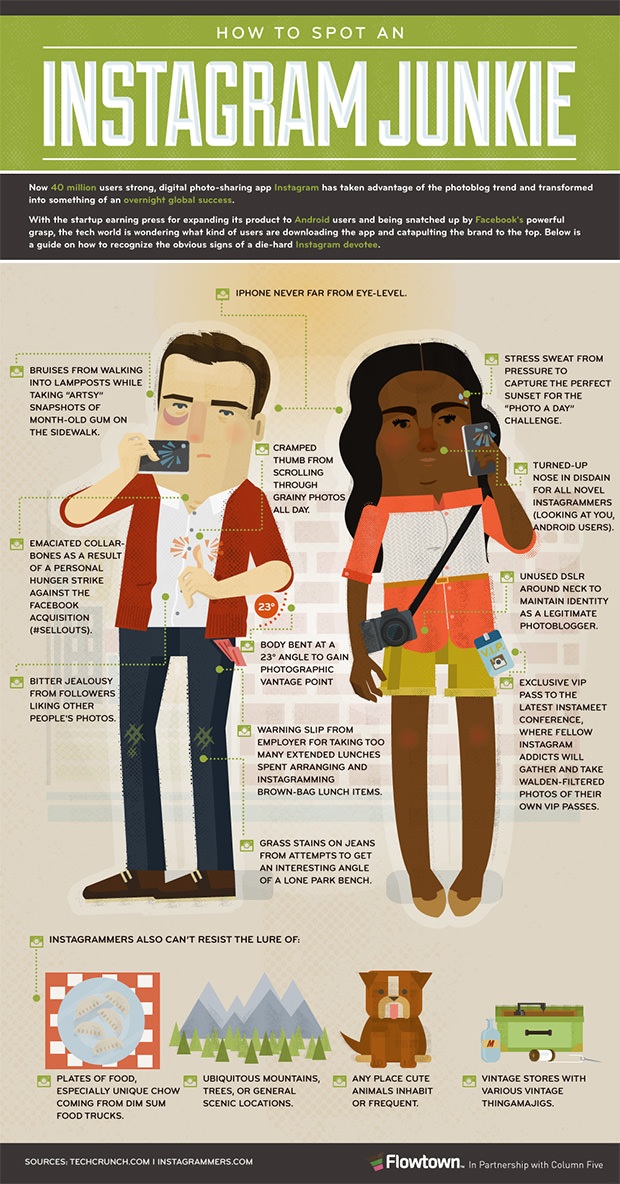 5. Instagram Impact
Just Social collected information about the impact Instagram has had on the world.   This graphic explains each stage of Instagram and gave some great facts.  I was amazed at how fast the growth rate increased. I can only image how fast the growth rate will rise months to come.

6. Does Instagram Mean Insta-Results?
Does Instagram mean insta-results?  Boot Camp Digital believes that has taken off in the social media scene.  I really like the section of the graphic about how you can find the same success as other businesses.  The tips here are pretty neat and we cant wait to try the out!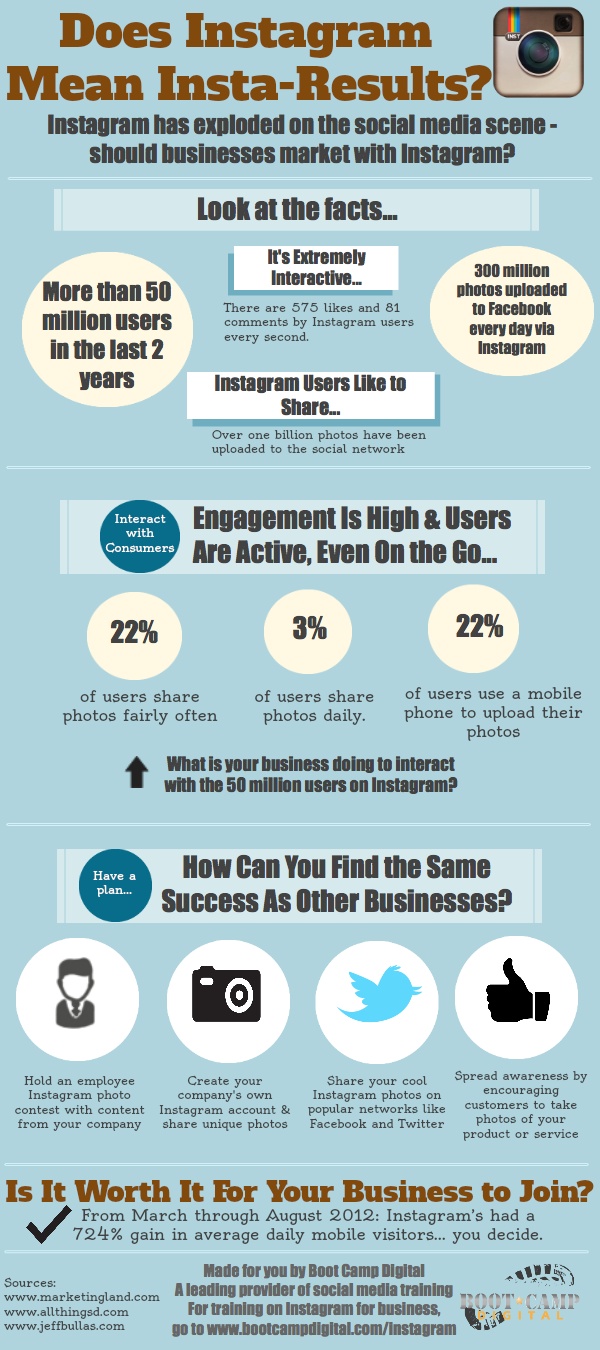 7. Reasons and Tips to use Instagram for Business!
New Media Force believes that Instagram is good for all businesses.  This infographic gives three great tips any business can use in reaching their followers. Images do appeal to emotions and will help connection with their consumers.  Your business can engage with customers in fun ways such as contests.  I found bonus tip number three to be very informative and a great tip I can't wait to utilize.

8. 10 Killer Brands on Instagram
Are major brands using Instagram?  YES! Social Fresh is showing how some brands are uploading live events, promotions, behind the scenes, breaking news, and viral content on Instagram.  According to this graphic some of the few companies involved in this photo evolution are: CNN, MTV, Nike, Starbucks, and Celtics.  These various companies show that Instagram is very versatile, something that anyone can use.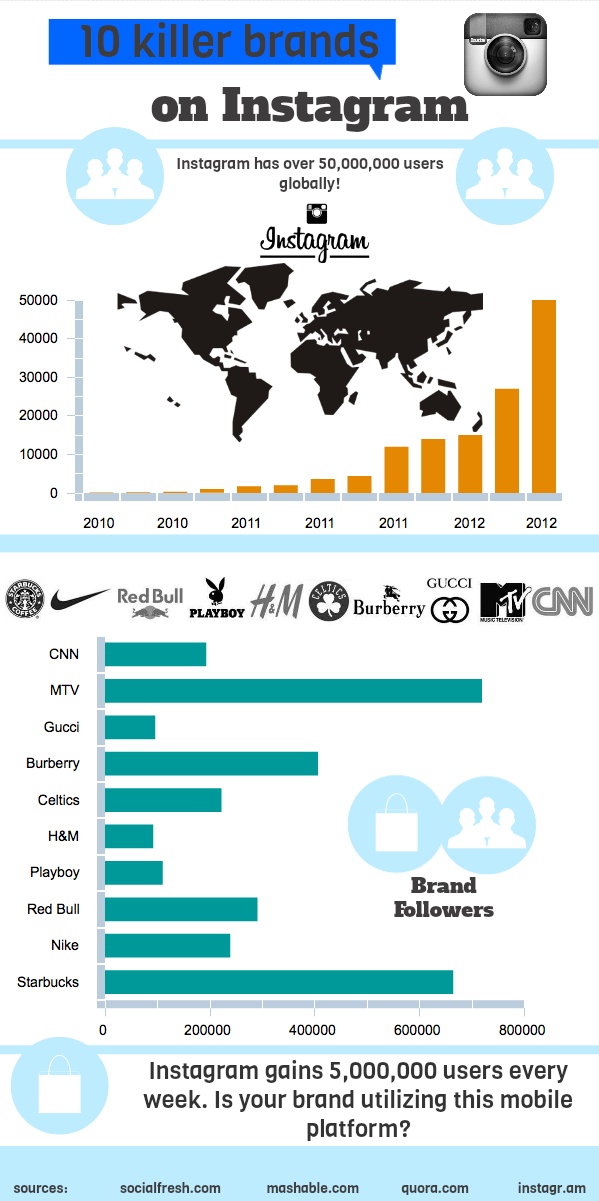 9. How Much Engagement are Top Brands Getting on Instagram

Wishpond has created an infographic to show the top three brands on Instagram and their engagement with followers.  Instagram is making it easy for companies to have this visual brand engagement. How crazy is it that the top brands are Nike, MTV and Starbucks?  Good thing most people  like seeing images of athletic gear, celebrities and coffee.

10. Take Instagram Out to the Ball Game
What a wonderful infographic example from Venueseen  on how  Major League baseball is utilizing Instagram. I love how they are really trying to engage the supporters and encourage others to go out to the ballgame.  What a great way to utilize Instagram and connect with fans.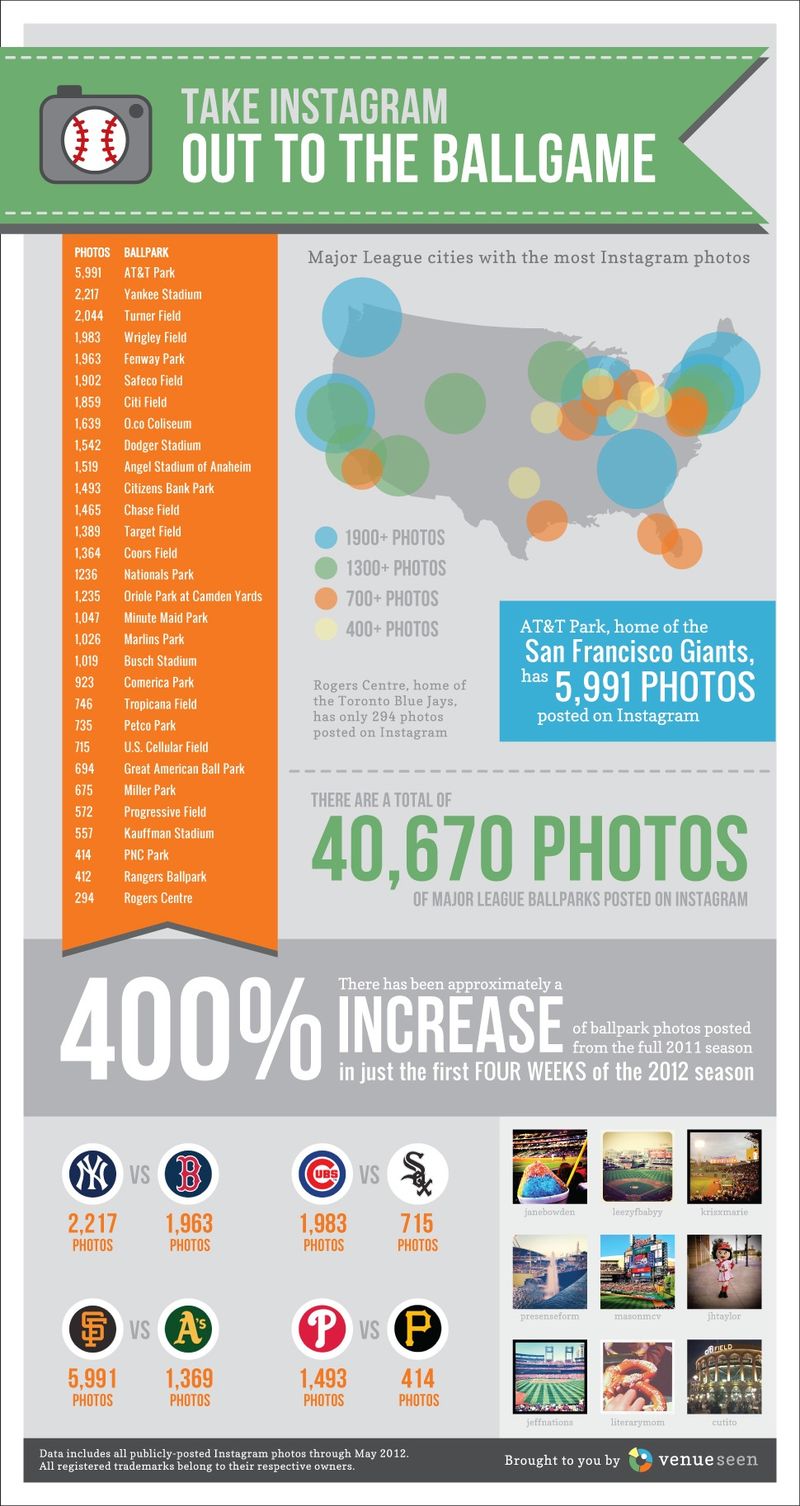 These great infographics have done a good job explaining Instagram. Did we miss any other great Instagram  infographics? Tell us how you are using instagram in the comments below!! Do you have a good example of a business who is hitting it out of the park? Share below!! Don't forget to follow The Social Buzz Lab on Instagram  @socialbuzzlab.