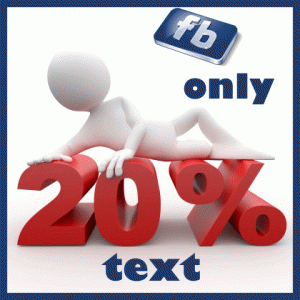 Facebook news feed.  There are both critics and proponents of this change but no one is really sure how it is going to effect a brand.  One little change slipped through this week that we feel is really a big positive change for brands.  This Facebook change is likely the result of the recent change Google made in it's brand pages on Google+.  We are in a world of visual story telling.  Google increased the size of their cover images and have never had any restrictions on text on the image.  Google allows  as much text as you want including calls to action and contact info.
Facebook has changed it's policy for cover images.
The Facebook old policy stated that you could not include any contact info or call to actions.  The new policy just states that text cannot consume more than 20% of the image.
So what does this mean to brands and page admins?  Here are some ideas of what you can NOW include in your Facebook cover image.
You can now include contact info including phone numbers, address and email
You can include a call to action like sign up for a newsletter
You can list your website
You can ask your fans to "like" your page
You can include product and service price info
Any of the above can be included, just make sure you don't have more than 20% text on your image. In the example below you can see this cover has approximately 16% text.  Up to 5 of the section grids would be in compliance of the Facebook rule for cover photos.
Be creative and get the most leverage with your cover image.  If you don't have a graphic designer on staff, hire one to help you create your graphic.  With the new Facebook News Feed including your cover image,  it's never been more important to visually tell your story.
Have you seen any great examples of Google+ or Facebook cover images taking advantage of these new guidelines?  Share the links in our comment section below.