When you network in person you immediately make an impression.  You want to leave knowing they will remember you and know how to contact you or follow up. For personal branding we generally have a brief conversation giving our 30 second introduction and pass out our business cards for follow up. But what happens when you meet someone through email?  How do you make that best first impression?  How do you carry out your branding in email? The best way is to include a professional signature file in your email.  I recently wrote a post for Handshake 2.0 about what information you should include in your email signature.  You can read the post here.

I am always asked how to set up an email signature file so I'm going to explain the process I use. First of all I suggest you use Google Apps or Gmail for your email client.  I'm a huge fan of Gmail. Among many reasons, I like it because it is web based and I can access it from any web browser.  Many email clients have options to include a signature file but they can be cumbersome and hard to figure out.  If you want any type of graphics you need to use html which many do not support.  I use a free service called WiseStamp to create and manage my signature files. It's a browser extension and currently works with Firefox, Chrome, Safari, IE, Thunderbird and Flock. WiseStamp includes a suite of applications that allow you to customize your signature to include your contact information as well as make it entertaining.  As I said, this is a free service but there is a Pro account that has more bells and whistles.  I use the free version.  Unfortunately, WiseStamp doesn't support all email services.  Currently WiseStamp supports Gmail, Google Business Apps, Yahoo, Hotmail, AOL and Outlook.com.  Outlook for desktop is not supported at this time.
7 steps to create a professional and dynamic email signature.
 Download and install the WiseStamp application to your browser.
To create your signature file click on Edit WiseStamp from your browser apps or click on the WiseStamp icon in your email client.
You can create a new signature from scratch or you can select from the templates offered by WiseStamp.
After you add your personal contact info and logo or picture using the HTML editor, you can select from the broad array of email apps. (I like the RSS feed app that dynamically displays your latest blog post.)
Choose the social icons you want to display on your signature.  You can drag and drop to arrange them in the order you prefer.  Remember to use http:// when entering the links.  You can also include your IM icons like Skype.
If you want to be really creative you can add design elements like a border and background.
Now that you have everything added it's time to preview your signature.  Click on the preview button to see what it looks like.  If it looks fantastic then click apply to save it.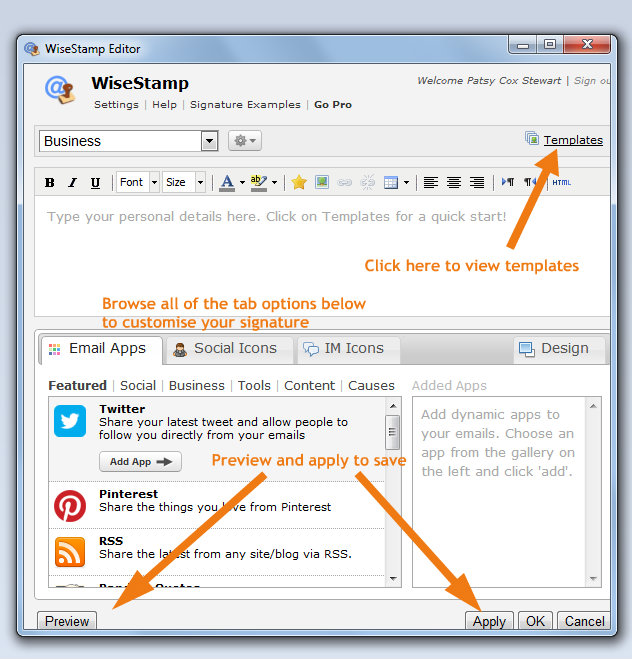 That's all it is to it!  Now head on over to your email client and test it out!!
Tell us what you think with your comment… which is your favorite app for your signature?