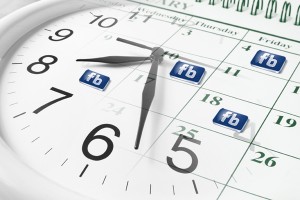 Are you struggling to share content on your Facebook page consistently?  Have you heard that using third party apps to schedule a post to go out at the best time to reach your market can be detrimental to your engagement success? You can now breath a sigh of relief.  Facebook has rolled out a schedule feature for page admins to queue posts. It may seem a little awkward at first but it does the job nicely.
3 Reasons to Use Facebook Scheduled Posts
Strategic Planning – With the ability to schedule posts days, weeks and even years in advance, page admins can execute a strategic plan directly in Facebook. Some of you may already use marketing calendars to plan your posts for the year, but how much time could you save by entering your posts for the next week or month directly into Facebook. If you have more than one admin, this is a perfect way to collaborate with other admins. If you manage a page for a client, this is a perfect way for the client to review the posts and approve them before they go out.
Time Management  – We all know that time is our most valuable resource, and must be used wisely. The main complaint that we hear from page admins about trying to post consistently is the lack of time.  We all know that Facebook can suck you in for hours if you're not careful. By scheduling posts, you can set aside one or two hours a week to get the job done.
Fewer Errors – We've all done it – we read and re-read a Facebook status update, click "post", and a few minutes later realize there is a spelling or grammatical error. Unfortunately Facebook hasn't added an edit feature after a post has been published, but you can edit posts that have been scheduled. Scheduling posts for the week can save a world of headache from having to delete posts that have already gotten some likes, shares or comments because of a simple error.  Please note that you can only edit posts that have photos. Remember Facebook is VISUAL.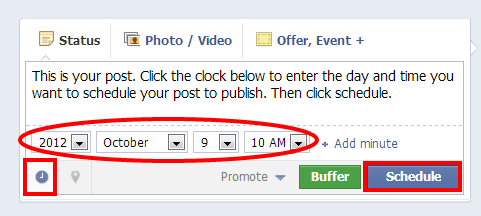 Things to Consider When Scheduling Facebook Posts
Of course, there is still a need for engagement, so scheduling posts doesn't completely keep you from checking your page regularly.
You may not schedule highlighted posts, so if you'd like to highlight a post you will have to highlight it manually after it has been posted.
Remember to always include an image whenever possible. When scheduling a post there is an added bonus because only posts with photos can be edited.
You can review scheduled posts by going to the page activity log.
We hope you found this post helpful. Share your experience using Facebook's scheduling feature in the comment section below.