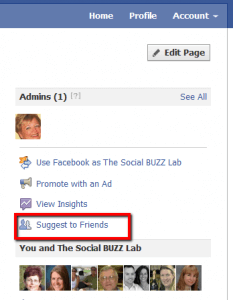 UPDATE:  As Facebook is constantly changing so are the ways to suggest your Friends to like your page.  See our updated post to learn more about how to get more fans and likes for your Facebook page.
Facebook is constantly making changes, adding new features and taking others away.  The one feature that most page admins seem to miss the most is the "Suggest to Friends". Good News… it appears it has returned, at least to some admins.  It will not available for everyone, only to Page Admins.
During the last several weeks I have Suggested to Friends only to find out they never received the recommendation.  It has been very frustrating as an admin because tapping into your friends was a quick way to increase your "Likes".  I'm happy to report, as of the time that I am writing the post,  it is finally working, at least for me.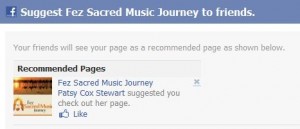 Facebook confirms that your friends will see your page as a recommended page as in the image to the left.  There are no notices or messages sent, only the recommendation on the right side. It displays 2 recommendations at a time and rotates based on the number of recommended pages you have received.
For me, the results have not been nearly as good as they used to be when the suggestion to my friends landed as a notification but I'm hoping as Facebook users understand more about recommendations the results will improve.
One additional point, as a user if you find a page you want to suggest to your friends, you can share it by posting it to your profile or sending it as a message.
These are just a few tips that can help your Facebook business page success.  To learn more about How to create and manage Facebook  Pages I invite you to attend our Handzon Social Media Training on Facebook Pages on April 14, 2011. Learn more and register here. Seating is limited.